An ideal product for long-term care, pharmacies, hospitals
and correctional facilities…anywhere medications need to be crushed to a fine powder to ease administration.
---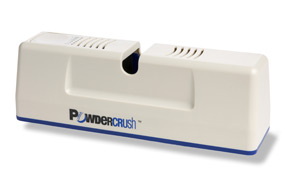 Having to manually crush medications, multiple times per day, puts health care workers at much greater risk of repetitive strain injury. Crushing medications for only 30 patients in a 100 bed nursing home adds up to 44,000 crushing activities a year. That is a lot of manual crushing! Powdercrush will help reduce the chance of repetitive strain injuries for nurses by crushing pills at the touch of a button! No effort required…

The Powdercrush is used with disposable medication PharmaPouches, which eliminates the problem of medication cross contamination between patients, while crushing meds to a superfine powder. The operator is in total control of how long the meds are crushed and to what consistency.

The Powdercrush is lithium battery powered and will last days on a single charge (charger included) and has LED lights on the top to show the level of charge remaining.

PowderCrush also saves significant time on a medication administration round by crushing pills in just seconds…a further advantage to automated crushing.

Stop hand crushing your meds and start powdercrushing with the powerful, portable Powdercrush from Manrex.


---
Medication Crushing as Easy as 1, 2, 3
---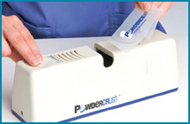 1. Place pills to be crushed in a PharmaPouch disposable medication crushing pouch. Fold over the top of the pouch to keep the powder inside the pouch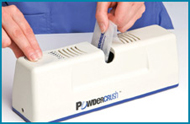 2.With one hand, insert the disposable medication PharmaPouch filled with pills in the slot on top of the machine. Press down on the start button to crush the meds.
3.Typically, 4-5 seconds will produce the desired results. For a finer powder operate for a longer period.
---
Specifications
---
The Powdercrush system is used with disposable medication PharmaPouches available through Crocus. The Powdercrush is fully rechargeable using lithium ion batteries.
Width:
Length:
Height:
Weight:
8.25 cm (3.25 in)
27.9 cm (10.98 in)
9.5 cm (3.74 in)
2.7 kg (5.95 lbs.)
Learn how this innovative product can benefit your organization.