SA Winder
The SA Winder (Stand Alone) is a winder that helps roll up the strips produced by the automated packaging machine once they produced. These rolls can then be easily fed into the MDM verification unit, right from the SA Winder itself. It is controlled by a simple foot pedal or hand controller to regulate the speed at which it winds.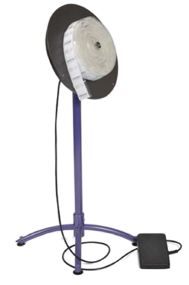 Foot or hand control.
Winds in either direction
Tilt-able head with three positions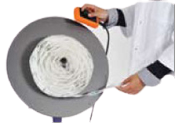 ---
Specifications
---
Power: 220-240 V~50Hz 30VA
or: 110 V~60Hz 30 VA
Item number: GF12-23393
Height: 47.24″ (120 cm)
Footprint: 18.11″ x 18.11″  (46 cm x 46 cm)
Weight: 26.45″ (12 kg)
Table Top Winder (Winding Pouch-Rolls)
The Table Top Winder is a stand-alone winder for rewinding repaired pouch rolls, or for separating and winding up individual patients' rolls for distribution at the LTC facility. This small, convenient device is designed to sit on a table top and is operated by an electric foot pedal and it saves a lot of time for pharmacies shipping strips separated by patient to the facility.
Foot-pedal control.
Left- and right-handed operation.
Quick-release option.
---
Specifications
---
Power: 220-240 V~50Hz 30VA
or: 110 V~60Hz 30 VA
Height: 7″ (220 mm) Footprint: 6″ x 13″(150×330 mm)
Weight: 10 lbs (4½ kg)
Learn how these innovative products can benefit your organization.