The innovative and compact MDM V2.0 from Global Factories remains one of the most accurate verification devices available on the market today. As the first verification device ever created, and still market leader around the world, it has been specifically designed for confirming the accuracy of multi-dose medication pouches produced by all brands of cellophane packaging machines. Constantly improved and updated over 20 years, its software and functionality are utilized around the world to reduce the risk of dispensing errors when creating unique patient specific pouches/sachets. If you are a pharmacy, hospital or central fill dispensary, you can depend upon the MDM V2.0 to minimize the risk medication errors for your patients, while providing total traceability and accountability for all your medication packaging.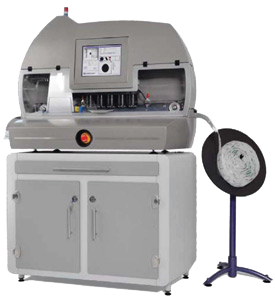 Accurate checking of up to 75 pouches per minute. Verifies using tablet quantity, shape and colour.
Patented two step agitation process reduces false alarm potential.
Immediate verification results for quick and simple review and sign off by pharmacist or technician on site or remotely.
Problem Pouches immediately highlighted for individualized review
Stores digital colour images of each pouch produced for accountability and documentation.
Provides statistics for production overview and improved efficiency opportunities

Patented pouch agitation and pill
separation
Digital colour image
of each pouch
MDC Pouch Review and Verification
---
Specifications
---
Power: 110 V systems – 6.9A / PC Power: 6A
220 V systems – 3.8A / PC Power – 3A
Delivered inclusive with unwinder, foot operated
winder and base cabinet
Width: 21.06″ (53.5 cm)
Length: 53.54″ (136 cm)
Height: 37.40″ (95 cm)
Weight: 110 lbs (50 kg)
 Learn how this innovative, error reduction product can benefit your organization.