The MDM 1 pouch verification system is an exceptionally compact design, making this a perfect choice for smaller retail pharmacies providing multi-dose adherence packaging or servicing smaller volumes of nursing home beds. Additionally, it is ideal for hospitals who want to check unit dose packaging for use in ADUs.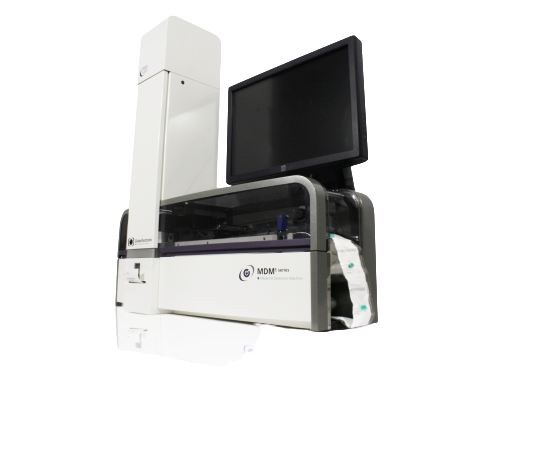 Compact System
The MDM 1 series is our smallest pouch verification model that automatically checks patient multi-dose pouches quickly and accurately. Because the verification software is integrated, all pouches can be verified and reviewed on the machine itself or at remote work stations.
The MDM 1.0 is a perfect way to start verifying multi-dose adherence pouches on a smaller scale for the community care setting, or smaller numbers of LTC beds. It is also highly suited to unit dose hospital situations where only unit-dose rolls need to be checked. Because it uses the same proven verification technology as the larger MDM 2.0, the quality of the verification is exceptional.
Most Efficient Process
Reviewing the pouches is made easy with smart functions in the software and a user-friendly interface. By using specific algorithms and pill types we have been able to reduce the "false alarm rate" (pouches that are correct, but falsely alarmed as incorrect) so you have to check fewer pouches that need "Clearance". This smaller percentage of pouches needing a secondary check sets us apart from our competitors.
Accurate Checking
Using various software algorithms, the MDM 1 Series reads the pouch barcode and quickly and accurately checks the number of pills, their shape and finally, colour against information supplied by the automated packager.
Our Pouch Review software provides detailed results of the verification process, highlighting the pouches that require personalized review and allowing instant access to data for all pouches.
Several images are taken of each pouch, which are stored for security and accountability if needed for future review. Reports can be printed or exported, and repaired pouches can be registered by capturing a new image at the Repair Station.
Innovative software allows you to track the individual barcode on each pouch, even after the medication rolls have left the pharmacy, which can be crucial for the pharmacist, for example, in case of a medication recall.
---
Specification
---
Width:
Length:
Height:
Weight:
14.56″(37cm)
29.92″(76cm)
32.67″(83cm)
147.71″(67Kg)